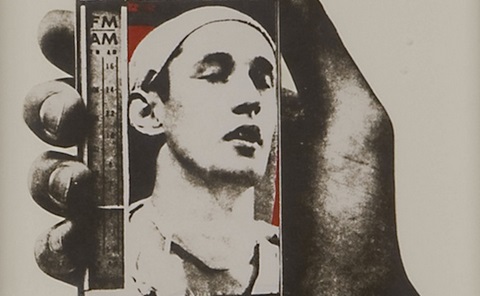 Wallace Berman, "Untitled #126," 1976, single negative photographic image cutout.
Art exhibitions take many forms. They can be surveys of a time, place, artist or artistic movement. They may reconsider an artist through a new prism, or appreciate the familiar in a new or different way. All too rare is the exhibition that invites the viewer to share in the joy of discovery, engaging us as confidants in new revelations that suddenly seem self-evident. "Speaking in Tongues: Wallace Berman and Robert Heinecken, 1961-1976," is just such an exhibition. At the Armory Center for the Arts in Pasadena, the show was co-curated by Claudia Bohn-Spector and Sam Mellon.
Berman is probably best-known for his Verifax collages -- made with an early Kodak copier, with which Berman appropriated and assembled images, often showing a hand holding a transistor radio on which an image is displayed. (Today, this device appears to prefigure our current smartphone-iPad-iPhone technology.) The works contain a series of various images, repeated in grid format and are often adorned by Hebrew letters.
Heinecken made his photographic compositions without a camera, using appropriated images. Although the two artists' works are very different, their display here, side by side, grouped around themes of code, gesture and narrative, makes clear the conversation that existed between the two and allows the work of each to seem all the more important, influential and contemporary.
In a recent conversation, Bohn-Spector explained that it was while doing research in the Heinecken archives in Tucson, Ariz., that she and Mellon discovered the connection between the two artists and came upon a way of revealing a hitherto unknown symbiosis between them.
Let me confess my ignorance: Until a few weeks ago, I knew little about Wallace Berman -- although it turns out that I had seen one of his important works, "Topanga Seed," when for a column on the launch of "Pacific Standard Time," I visited the home of Stanley and Elyse Grinstein, where the work sat at the entryway, a huge boulder covered with Hebrew lettering (it's now on view at the Getty). Although the Pasadena exhibition gives equal importance to both artists, because of Berman's imagery I will focus here more on him.
Grinstein called "Wally" (Berman) the "soul" of California's artistic movement in the late 1960s and early 1970s. Berman is variously referred to as a "guru" to the Beat movement and the "father" of California assemblage art.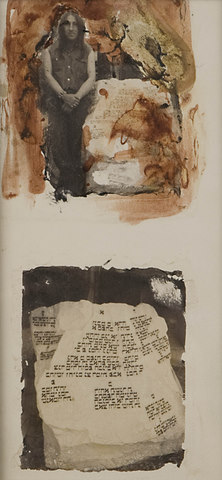 Wallace Berman, "Untitled" (two-ton rock, above and below), Verifax positive, with Polaroid transfer on magazine map.
Berman was born in Staten Island, N.Y., in 1926. When he was 4, his family moved to Boyle Heights in Los Angeles. He attended Fairfax High School, from which he was expelled, in 1943, for gambling (his gambling compulsion was such that one of his early artworks consisted of a poker table, complete with cards and chips, hung on a wall as a painting). He served in the Navy during World War II, working with sonar and setting off underwater explosives, an experience that triggered a breakdown. After the war, Berman attended both the Jepson Art Institute and Chouinard Art Institute.
In the 1950s, Berman became deeply immersed in jazz and the blues, writing a song for Jimmy Witherspoon and designing album covers. (On the day I visited the Armory exhibit, one of the other attendees was a woman who had been friends with "Wally," as she had called him, and she recalled him taking her to jazz clubs in what was known at the time as South Central Los Angeles, even introducing her to Charlie Parker.) He also became part of the Beat movement, spending the next decade shuttling between San Francisco and Los Angeles creating Semina, a limited-edition art magazine that mixed prose, poetry and art from contributors such as Allen Ginsberg, William Burroughs and Jean Cocteau. In 1961, he returned to Los Angeles, settling in Topanga in 1965.
For the next decade, Berman was part of a vibrant Topanga arts community that included actors, artists and musicians, among them Dean Stockwell, Russ Tamblyn, Dennis Hopper, George Herms and Neil Young (Young's "After The Gold Rush" was originally composed as the soundtrack to a Berman film screenplay). Berman was killed in 1976, the night before his 50th birthday, while riding his motorcycle, the victim of a drunk driver.
Berman's love of the printed word and his appreciation of the spiritual dimension of words and letters was manifest in his study of kabbalah, his use of random Hebrew lettering and words in his art, and his adoption of the Hebrew letter "Aleph" as his own identifying symbol. It is both beautiful and haunting to see those Hebrew letters in Berman's works, on display both at the Armory and at the Getty's "Pacific Standard Time: Crosscurrents in L.A. Painting and Sculpture 1950-1970" survey. The Hebrew attests to the ancient and often indecipherable mystical power of both language and art -- at once foreign, scary and familiar.
In the Armory exhibition, curators Bohn-Spector and Mellon included postcards, letters and texts by Berman that offer a sense of his inner life and which, at times, read like Kerouac-style free associations, jazz-like hipster monologues. Berman had a great appreciation for the French Surrealists and Dada, and for the symbolist credo of a derangement of the senses to produce transcendence -- which may be the best explanation for his nine-minute experimental film, "Aleph" (completed posthumously by Stan Brakhage), which is being screened at the Armory.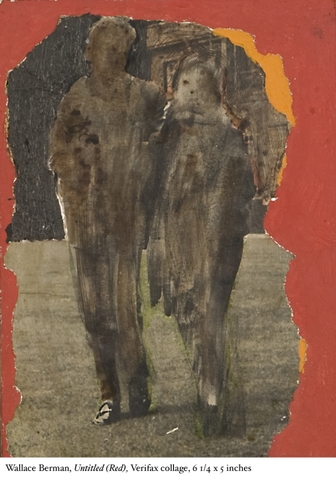 Berman, Untitled
Co-curator Mellon's catalog essay about Berman and Heinecken, "Feeling for the Dude: Brotherhood and Masculinity Creeping Through the Ether," is a personal essay and discussion of the male idioms that pervade the relationship between these two artists (such as military service, gambling, motorcycles and pornography) and that inform their work.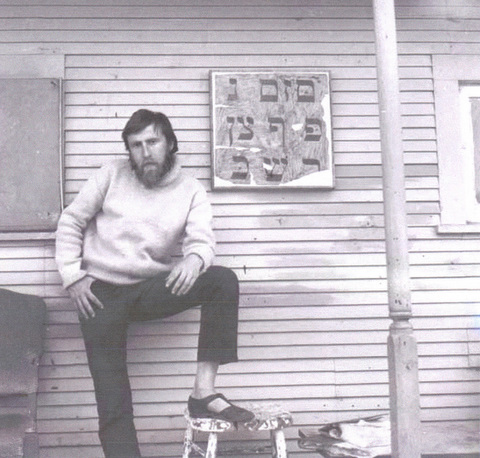 Berman
It is striking that both, in those postwar years in California, were immersed in jazz and Beat, and involved in disassembling and reassembling contemporary culture, making paintings without painting, or photographs without cameras, as well as appropriating images -- even those shocking to conventional society (such as admittedly pornographic images) -- and refashioning them as art.
This recalls nothing so much as the dialogue between those other dudes, Picasso and Braque, who in an earlier Jazz Age in that Parisian Topanga called Montmartre, also created art of the vulgar and exotic (the African-masked whores of "Les Demoiselles d'Avignon"), as well as assemblages from found objects and collages that included the detritus of their everyday lives -- newspapers, menus, images of street performers and musicians. Their inventions of Cubism and the art of collage and assemblage would speak to an entire society coping with modernity and to the artists that followed, including Berman and Heinecken, as would these latter two become influential in their own right, upon artists as varied as Robert Rauschenberg, Cindy Sherman and Jeff Koons.
It is the recognition of this secret language between the artists and the generations that "Speaking in Tongues" allows us to discover in Berman and Heinecken. Berman's work and influence, if not so widely known before, should by virtue of "Pacific Standard Time" become a part of our modern canon. To quote "The Big Lebowski": "The Dude abides.
This article appeared originally in print in The Jewish Journal of Los Angeles
A very nice piece on my father. But to give credit that is due, Neil Young's "After The Goldrush" is based on a screenplay by Dean Stockwell, not by my Dad. - Tosh Berman